When it comes to toilet essentials, flushing is important. Regarding this, we have made a guide on dual flushing systems. As its name implies, they have the dual power of flushing which makes them a precise option to buy.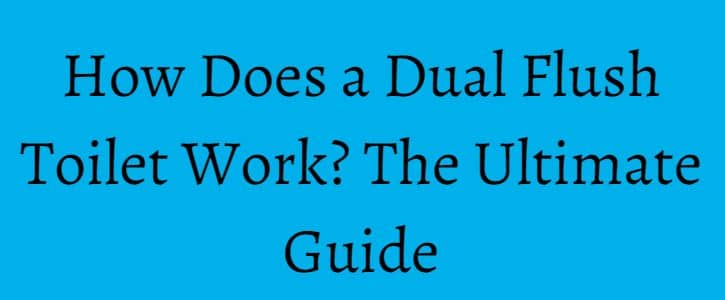 It is reported that a dual flushing system is saving water up to 70% compared to the toilets manufactured before 1994. So if you are using the older toilets, then you should change it with a dual flushing system as it is saving an average of over 70 liters of water per day. In this way, you can save your money up to 8,000 gallons of water. Let us help you to understand it in better ways, so read our guide on dual flushing systems.
How Does a Dual Flush Toilet Work?
When it comes to the dual flushes, they have high volume hence recommended for solid waste. On the other hand, low volume flushes are ideal for liquid wastes. However, the high volume flushes are designed to meet the ultra-high efficiency standards. Since the market is flooded with thousands of toilet models that make your decision difficult. There is no wonder it is unnecessarily complicated to make a purchase. That's why we are here to help you when you are looking for a dual flushing system.
How Much Water Does a Dual Flush Toilet Use
A decade ago, toilet taps or showers were designed to provide up to 7 gallons of water per flush that makes 8 gallons on average per flush. Later, in 1994, experts of toilet manufacturers realized the importance of water and reduced the flushing rate, which is 1.6 gallons per flush or less. Hence, toilets are made with roughly 1.1 gallons per flush so you can complete your need without wasting water.
Unlike other flushes, the dual flush uses a larger diameter trap way. They are designed in a way that doesn't make wastage clogging. They are convenient to use and need less water to flush. Not only that, it is reported that dual flushes save water more than 60 times compared to older toilets based on an average of a year.
However, there are some advantages of the dual flush system. They are expensive, and the design may not be liked by everyone. For instance, if you want to get a tidy toilet bowl that's half full of sparkling clear water, then the dual flushes will be an adjustment. They retain a little water in the bowl and sometimes flushes won't get rid of all waste. No need to mention that these types of toilets need to be brushed more often.
Dual Flush Toilet – Which Button to Push?
As the name implies the dual flush toilet comes with two buttons featured on its top. These buttons can be pushed on the top lid. One has a small shape which makes the flushing solely towards the waste. The larger button is for high volume waste such as toilet paper. They are visible directly on the toilet so you can know which one is low volume flushes or high volume flushes.
What Toilet Bowl Is Right For You?
As far as the toilet bowl is concerned, you have to figure out how high the toilet bowl is off the ground. It can be tall or short. An average range of a bowl from the ground is up to 16-18 inches so you can get the ease of getting up and down.
Lined/Insulated or Unlined/Uninsulated Tank?
There are different tanks available on the market. For instance, you have to prevent condensation in warm summer months. This can be done by an insulated tank. You might also have to avoid condensation if you are living in an air-conditioned home. It is because of the dry air and the water source that is not too cold.
Is the Toilet Comfortable to Sit On?
Well, we suggest you try before buying. When you are buying to sit on the bowl to test, you should also look at the finishing of the seat. It may be made of wood or plastic. You have to make purchases according to your preferences.
Toilet Bowl Shape, Lid, and Power
The shapes include square, oval, and round. But if you are looking for a hygienic choice, then elongated bowls would be the best one. Not only that, you should figure out whether you want a top flush or not. You can choose the top side, left and right side to be mounted.  Moreover, don't forget to look at the lid. It should be soft, which is increasingly the norm for most bowls.
Additionally, the one-piece toilets are easy to clean but require more money. These come with a small water tank. There is another type which is two pieces that need less money but is a standard option.

FAQs
Does the Toilet Have Sufficient Flushing Power?
It is an arguable question so you can get an idea of which type of flushing action is best. Either you are going to get a gravity or pressure-assisted flush esm you need to make a choice according to your requirements. However, it is better to have a traditional battery to get optimal performance, so gravity flushes are good to buy.
Are dual flushes worth it?
Dual flushes come with a double in the power of flushing. The low volume flushes are engineered for wasting liquids while dual flushing allows extra flow and is recommended for solid waste. Comparatively dual flushes are better to save money, unlike older toilets. It drives lower water usage on your monthly water bills.
What is the difference between dual flush and single flush?
The difference between a dual flush and a single flush is the mechanism. That is to say, the water quality is the same but can flush all types of waste. Dual flush water uses two flush mechanisms with two buttons located on the tank.
The Conclusion
All in all, we have provided a detailed guide on the dual flushing system. These systems are designed to provide a better flushing experience and tend to pay fewer water bills. Even though they are expensive but save you more buck as compare to other flushing mechanisms. Hopefully, this guide on dual flushing system helps you a lot.
Also Read: Definite Guide on Smart Toilets